aaaa
aaaa

Specific-site installation
"LOVE-FEAR"
Lake of Aghios Nikolaos, Crete
14 September 2007
text also available in Greek


LOVE-FEAR
A work of art-An invitation to abstain from the elections
x
"LOVE - FEAR" is a work of art by Angelos Spartalis - based on a work by Valie Export - which will be presented on the rocks surrounding the lake of Aghios Nikolaos, Crete, on Friday 14 September 2007, two days before the appointed parliamentary elections. Cloth, letters, hooks, ropes, weights and a political statement will be the materials of this installation. The statement will be sent to the press on 4 September for publication and the installation will be hung on the rocks of the lake in the early hours of 14 September.
a
Political statement: The aim of our life is LOVE. In the words of the politicians that ask for your vote today, you will never find the word LOVE, not even once. Try to imagine the Prime Minister, suit and tie and all, speaking on TV and saying: "blah, blah, blah, LOVE, blah, blah…" Wouldn't it be out of place? The modern, wooden language of politics is incapable of uttering a word so sweet and so dangerous at the same time. Modern politics is perfectly expressed by the word FEAR. All political parties terrorize us: we will get fired, we will get no pension, the forests will burn, the immigrants will defile us, we will develop cancer from pollution… The aim of our life is LOVE. FEAR deforms LOVE.

To the Athenians of the 5th century B.C., elections were a practice of the aristocracy, incompatible with the idea of democratic citizenship. Ancient Athenian Democracy was direct and thus a true Democracy. Today we are experiencing a liberal Oligarchy. Any politician who receives four-year-long and practically irrevocable ruling power is instantly corrupted. The bureaucratic mechanism of political parties is the tombstone. The result is a society of Consumption-Policing, a society of Privatisation-devious Manipulation of the Individual. Today the Prime Minister is called Karamanlis (his uncle was a Prime Minister) and the person who wants to take his position is called Papandreou (his father and grandfather were Prime Ministers), only these families produce Prime Ministers, period, the rest of us will always be watching them on TV. It has never been as difficult as it is today for an honest, worthy person to become an MP, a Minister or a Prime Minister.

In the pre-electoral speeches that pollute the atmosphere, each party declares that all other parties are incapable of ruling. So I think I may say, using the same courage or audacity: "ALL parties are incapable of ruling". Their bureaucratic mechanisms as a whole are as unfit to offer anything as the individual politicians that make them up. However, they can produce FEAR and live in FEAR. FEAR is the blood and water of modern politics. I am giving two examples, a collective one and an individual one:

On a collective level, the Greek Communist Party circulated a vulgar and insulting poster that contains pure nonsense and adds up to the following: "If you do not vote for the Communist Party you cannot dream of getting a pension even at 70". All parties basically do the same, they TERRORIZE us. A State of policing, fear and terror could only be sustained by terrorizing and policing parties.

On an individual level, the so far elected MPs who wish to be re-elected have taken pains to ensure that their co-candidates in their own parties are certainly not the most worthy, from FEAR of losing their own positions. Terrorizing and policing parties could only be sustained by politicians who terrorize and are terrorized, who police and are policed.

The sole intention of parties as a whole, as well as of individual politicians, is to be re-elected and not to offer. Period.

For the above reasons, and in virtue of the Power that I am given by the Art I faithfully serve, I INVITE every respectable person of the Working Class, of Thinking, of Education and of the Arts, TO ABSTAIN from the parliamentary elections. I invite LOVE to crush FEAR.

Do not vote for anyone. Do not vote for one party so that another does not win. Do not cast a blank or void vote, these are manipulated and interpreted according to the parties' interests. Simply ABSTAIN.

On the day of the parliamentary elections, which I predict will be a Sunday, and a sunny one too, I call on people to gather early in the morning at the lake of their city and discuss (for cities without a lake I suggest the seaside or the central square). I invite the forming of a true 'Demos', a true 'Ecclesia', if only for one day, if only for one moment. I invite LOVE to crush FEAR.

\On this beautiful holiday, I invite sons to pay at last that long-planned visit to their mothers, students to fall in love with their co-students, painters to paint something true and elephants to mind their steps. I invite LOVE to crush FEAR. I invite fathers to give a tight hug to their daughters, because they are the Future of the world. Finally, I invite all lovers - irrespective of height, colour, sex, religion and political origins - to kneel and kiss the hands of their women, because they are the Priestesses of our lives.

I invite LOVE to crush FEAR.
Angelos Spartalis
Igoumenitsa, Greece, 27 August 2007
Notes: I first came into contact with Valie Export's work through Documenta Magazine #3, 2007, p.58, brought to me from Kassel by Angeliki Svoronou, whom I thank for this. In terms of bibliography, I would like to mention not titles, publishers and dates but the work of Cornelius Castoriadis as a whole, especially "Ancient Greek Democracy and its Importance today" for its clarity of mind, "The Knights" by Aristophanes for the strict criticism that politicians deserve, "Blast Furnace" by Andreas Empirikos for "our enduring mass" and "the utilitarian acceptance of our life and of our every wish at every place at every moment at every hearty remembrance of the existing", and finally, the DADA movement for a revolution that will be fun. Moreover, I would like to say that I entrust the sponsoring of the work, whose costs I am not able to cover, to Mr. Odysseas Sgouros, architect, resident of Aghios Nikolaos, Crete, without this necessarily meaning that he shares my views, although I hope so.
aaa
aaaa
* I will tell here this great story so that it is not forgotten. Koundouros had asked me to go to his villa and pick him up, so that he could be with us during the installation. At 1:00 a.m. a friend went there by car, but he found Nikos fallen asleep. So the installation began without him and was completed successfully amongst generous applause from citizens gathered round the lake. Then the whole group went to the opposite side, right across the place where the work hung - to the balcony of "PERIPOU" bar - where we met several friends who greeted us with more applause, and we started drinking in an atmosphere of intense enthusiasm. At 4:00 a.m., those of us who had remained at the balcony discerned some shadows moving across. When it became clear that they intended to remove the work, there was a great argument and much shouting. They managed to cut four of the five ropes that held the work and then they fled. The work was left half hanging in the air and half sunken in the lake. Right at that moment, Koundouros came into the bar. He had woken up and he'd come to town to see how the installation had progressed. He had never been to the bar before, but he spotted us from the shouting. "Who did it?" he asked me. "The cops? The Communists? What the hell?" And he went on: "Let's go hang it again!" "Are you nuts?" said I. "The work is destroyed… It is broken and wet, and besides there are no people to help, everybody has left…" "We won't let a handful of pillocks thwart us" he shouted at me. "We will put it back to its place, right now, just the two of us if necessary!" A certain Giannis from Heraklion, great guy, came along, and the three of us went across. Within an hour we had hung the work again, or rather something that looked like what the work had been before. The wood was broken, the weights, being from paper, were destroyed, the cloth was wet on one side and it did not stretch properly, but anyhow we had managed to re-install the work back to its place. Thanks to Nikos' persistence…




photographs


"LOVE-FEAR", Lake of Aghios Nikolaos, Crete, 14 September 2007, 02:00
(photo by Julian Napier & Victoria Ôrzeciak)

"LOVE-FEAR", Lake of Aghios Nikolaos, Crete, 14 September 2007, 02:00
(photo by Julian Napier & Victoria Ôrzeciak)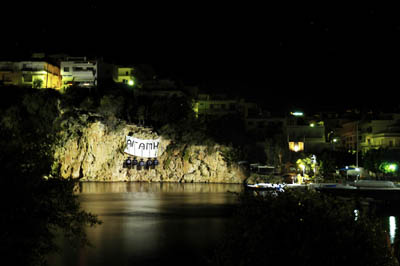 "LOVE-FEAR", Lake of Aghios Nikolaos, Crete, 14 September 2007, 02:00
(photo by Julian Napier & Victoria Ôrzeciak)

Lake of Aghios Nikolaos, Crete, 14 September 2007, 15:00
(photo by Angela Svoronou)

Lake of Aghios Nikolaos, Crete, 14 September 2007, 15:00
(photo by Angela Svoronou)
a