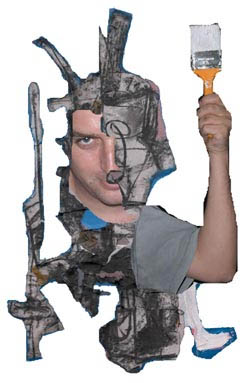 B
iography
Painter.
Born in Athens (1973).
Lived in Greece and in Germany.
Studied Mechanical Engineering-Aeronautics at the N.T.U.A.
F
ilmography
THE NET short science-fiction film, 2005, 35'
WISHES short documentary film, 2005, 25'
THOUGHTS video-theatre performance, 40', National Theatre of Rhodes, Experimental Stage, 22,23,24 March 2004
BIRDS animation, 2003, 5', participation at 4th Ecocinema Festival at the official competition for short films
MONOCYCLE artoon, 2003, 10'
ROUND IS THE RIVER video-theatre performance, 20', Centre of Contemporary Art, Museum of Modern Greek Art, Rhodes 27 April 2002
C
ontact
Angelos Spartalis POLYTEXNIOU 3, 72100 AGIOS NIKOLAOS, CRETE GREECE
Tel:+30-2841061550
E-mail: angelosspartalis@yahoo.gr
Composers

Cinematography, Edited by, Scenery costumes: Angelos Spartalis
Lighting:
Klaus Widler
Art director:
Polly Hatzimarkou
Music:
OBLIVION ( Antonis Papaspyros)
Sound:
OBLIVION & RADIO LYCHNARI (91.4)
Cast:
Popi Kourti, Suzana Concut, Giorgos Kotsoronis, Aphrodite Tolia, Polly Hatzimarkou, Maria Anezia, Besara Harris
Technical management:
Filipos Skarpetis
Producer:
Angelos Spartalis, Wish You Luck Film Productions
Summary

The human body is a perfect machine but no machine is perfect.
I am Android #RD11011973 -humans call me Suzana- and this is the story of my life.
We don't know WHY and HOW GRAVITY functions but apples still fall on the ground .
We don't know WHY and HOW TIME functions but time events still happen.
GRAVITY IS THE ORGANICminD.
TIME IS THE PERFECT MACHINE.
TIME FIGHTS GRAVITY TO CONQUER THE WORLD.
HUMANS AND DOLPHINS ON EARTH ARE ANIMALS WITH CONSCIOUSNESS OF THEIR OWN DEATH.
TIME HAS ADDED SELF-CONSCIOUSNESS TO HUMANS AND DOLPHINS AS A BRAIN EXTENSION.
WE ARE ALL PERFECT MACHINES BUT NO MACHINE IS PERFECT.
ANGELOS SPARTALIS ABOUT HIS FILM I took an apple from [Time-Place]:1 and put it to [Time-Place]:2.
That way I definitely influenced the life of Android #RD11011973 and I drew the science-fiction movie "THE NET" the way a painter would.
The movie was filmed in summer 2004 in Rhodes and was completed in February 2005 in Crete.

Distribution
Wish You Luck Film Productions, Angelos Spartalis POLYTEXNIOU 3, 72100 AGIOS NIKOLAOS, CRETE GREECE
Tel:+30-2841061550
E-mail: angelosspartalis@yahoo.gr